4 Easy iOS 14 Tips
---
---
iPhone users, listen up: you're not using your phone right!
When you read that, you might have thought, "How could you even know that?" (or something less pleasant than that). But the truth is, there are numerous ways to simplify basic phone interactions that most of us never even discover. So maybe you are using your phone "right", but are you using it in the most optimal and efficient way?
This article will try to bring to light small changes that can enhance your experience as an iPhone user without having you dish out any money or learn any difficult skills.
---
With every iOS update comes new features. While several of these features are highly publicized and obvious to anyone who updates their phone, others are more subtle. However, that doesn't mean they're not useful.
For this article, we've chosen four less obvious iOS features to highlight. In the spirit of iOS 14 being recently released, we decided to focus on the new iOS features in particular.
If you're not using iOS 14 yet, we're planning on releasing a similar article with lesser known but useful tips for the general iPhone user. Reading through this article may give you a better idea of what iOS 14 entails and whether you should consider updating. We also have an article on the all new Home Screen Widgets for more information.
These tips and any related instructions are explained in accordance with iOS 14.0.1 specifically. Read on to see if they can be useful to you!
Tip 1 - Know When An App is Using Your Camera or Mic

Have you come noticed an orange or green dot in the top right corner of your screen? With the iOS 14 update, Apple added these dots to let you know exactly when your camera or mic is being used. You can open up your Camera or activate Siri to get a quick preview of what these dots looks like.
The orange dot is an indicator that your phone's mic is being used.
The green dot is an indicator that your phone's camera is being used.


Why is This Feature Useful?
You may be wondering why you should care about these dots. When you click your Camera App, of course your camera is being used. Why do you need a dot there to remind you?
The crux of this feature is that it can let you know when Apps are using your mic and camera without your knowledge.
Did reading that send chills up your spine? I know it sounds creepy and perhaps even in the realm of tinfoil hats, but the reality is that this does happen and has happened. For example, the Instagram and Facebook Apps were both discovered to have been using phone camera outside of expected use.
In the data age, the more information an App has about you, the better it can cater to you, and the more that you'll engage with it. For example, if an App decides to activate your phone's mic when you're simply scrolling through the App's home feed, it may overhear you mention the word 'cereal' while discussing breakfast plans with a friend. Now it knows to show you more cereal-related content.
How can this be allowed? Well, a lot of time we authorize these Apps to use our mic, camera, location, and more without the inkling that these permissions can be misused.
The good news is that Apple has released several feature and settings over the years that give users control over their privacy. It's up to us to take full advantage of these options; keeping your eye out for these dots outside of expected camera/mic usage is just another step you can take.

Tip 2 - Use Snap to Shape While Working with Markup

In all honestly, we haven't been able to confirm this feature is new with iOS 14, simply because no one's really talking about it! It's one of those small but interesting features that we couldn't even locate in the Apple Docs.
We still chose to discuss this tip in this particular article as we confirmed it was not available for 13.5.1 users. So either way, it's quite new. And since we find ourselves using it from time to time, so we felt that it was worth sharing here.
The name of the game is Snap to Shape! Okay, it's not a game, but it is pretty cool.
Have you ever come across some interesting information that you immediately know you have to share with a friend? You likely know to take a screenshot, and maybe you even know that you can go into markup to circle, highlight, or doodle on the screenshot so your friend understands exactly what you're trying to show him/her.
Here's an example of what a screenshot highlighting an a city's current temperature might look like:
The circle and arrow make clear that anyone looking at this screenshot should focus on the temperature. But they're not so aesthetic... and if you really are out of touch with your inner artist your rendition of these shapes may even be incomprehensible.
Markup comes with the option to add shapes manually, so instead of drawing a wobbly little circle, we could have simply dragged over a perfect circle or arrow by clicking here:
However, if you're like us, you may not like the process of dragging, adjusting, and resizing the default shapes on your tiny little screen. Or maybe you don't mind! But the point here is that you now have another option to quickly fix up sloppy shape doodles like these. Let's walk through the process.
---
1) Head to your Photos and tap any photo that you're interested in marking up. If you're editing a screenshot, just tap the screenshot thumbnail in the bottom-left corner of your screen right after you take the screenshot. Screenshots can be taken by pressing down the button the right side of your phone and your Home Button at the same time.
2) Hit 'Edit' in the top-right corner of your screen if you're editing a photo from your camera roll. If you're editing a recently-taken screenshot, you can skip this step.
3) Now, tap the circle containing '...' in the top-right corner of your screen. This will pop up an options menu; tap 'Markup' here. Again, if you're editing a recently-taken screenshot, you can skip this step.

4) You should now be in Markup mode, with several colored stationary tools visible at the bottom of your screen. Choose any drawing tool and draw your desired shape.

5) Once you've drawn your shape, select the 'lasso' tool.

6) Draw a circle around your shape drawing while the lasso tool is selected. This should create a dotted line around your shape if you "lassoed" your drawing correctly.

7) Tap the lassoed shape. A set of options will pop up that look like this:
8) Click the right arrow to reveal more options.
9) Select 'Snap to Shape'.
Your drawing should be transformed into a one of the shape's from Apple's shape library; in other words, it should now be clean and not so doodle-y!
One thing that we liked most here is that you can use this method to draw clean renditions of shapes that aren't available to be manually added, like hearts and stars.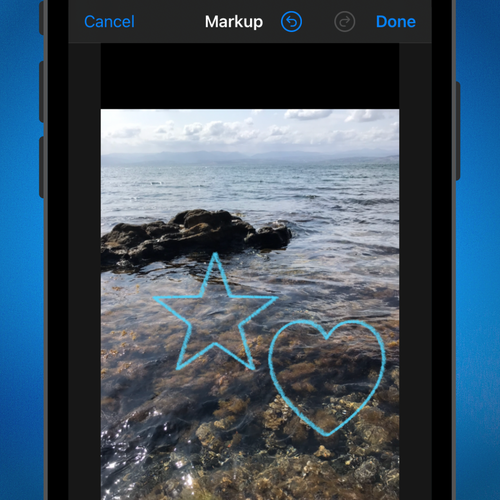 Tip 3 - Set Up Phone Notifications According to Your Preference

We've all been there: You're using your phone intently, super focused. Perhaps you're in the middle of a heated game of bullet Chess. Or maybe you just received an email informing you of whether your dream job application was accepted and, with your heart racing, you click the mail to open it and then...
Bam! A phone call from Mom takes over your screen.
Yes, we're all used to phone call notifications looking something like this:
Maybe you like that. Or maybe you don't. But either way, Apple has now introduced banner style notifications alerting you of phone calls, FaceTime calls, WhatsApp calls, or 'whatever-App-you-make-calls-with' calls! These banner notifications are specific to when you're phone is unlocked/being used, as this is when those fullscreen calls can be most disruptive.
The important thing to know here is that you have a choice between the old notification style and the new one. To set up the notifications style that you most prefer, go into your phone's Settings. Scroll down and tap 'Phone' or 'FaceTime' when you see it.
From here, you can tap 'Incoming Calls'.
Choose 'Banner' or 'Full Screen' based on your personal preference. The notification style you choose will be used for all of your different calling/video calling Apps.
Tip 4 - Use Picture in Picture While FaceTiming
This one is simple yet kind of overdue. When you are in a FaceTime Video call, you can now continue to see the video of the person you're talking to even when you go outside of your FaceTime App. And they can now continue to see your video when you're outside the FaceTime App as well. Yup, no more getting yelled at for 'pausing' people!

The video of the person you're FaceTiming will appear as a sort of thumbnail in the corner of your screen as you access your Home Screen or other Apps.
The best part is that you can move this picture around for convenience (or fun I guess). You can drag it to any corner of your screen.
You can also utilize the same two-finger pinch method that you use to zoom in and out of photos to change the picture size.
Lastly, you can drag the picture off the side of your screen to 'put it away' if needed. You can pull it back out like a drawer at any time.
This tip is best explained via a video demonstration, so we recommend you check out our YouTube Video for further explanation.

---
We hope that you enjoyed today's tips! Leave a comment on our YouTube Video letting us know which of them was most useful to you. We'd love to publish more articles like these and knowing what you like to see will help us research and choose the most beneficial tips to share.